There's some dirty secrets harboured by the townsfolk of Titan's sleepy Texas town. Take the college phys ed instructor who can't keep his hands off the young football players and the bald, muscled janitor to the massively hung dungaree-wearing Hicksville farmboy. And don't even get us started on the gum-chewing, cigar-chomping Sheriff who takes great pleasure in terrifying the young local lads with his monster cock! Another blinder from legendary director Joe Gage.
In the opening scene, Deputy Del Cobb stumbles across cute, furry-chested camper, Colton Steele having a shave outside his tent in just his towel. It only takes a small gust of wind to catch the towel and Steele's left bollock naked and standing to attention in front of the Deputy.
And, what do you know, the Deputy drops to his knees and with a sexy, "Do it" from Steele, gobbles down on his stiff cock, sucking on it until Steele shoots his load all over the Deputy's badge.Greedy for some cock for himself, Steele sits down on Cobb's tool before taking it doggy-style.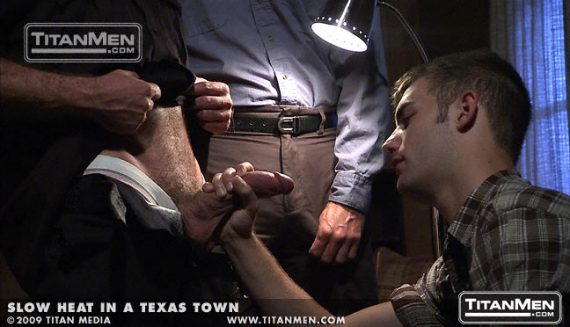 Scene two and college instructor Steve O'Donnell is getting ready for a date with his girlfriend when janitor Steve Carlisle enters the room as he's changing his clothes. Muscular Carlisle drops to his knees and gives blond O'Donnell a slow and steady face fuck that has both men moaning.
There's some very horny al fresco action in scene three when city businessman Chad Manning takes a break from hunting with his pal Steele and the guys hook up with massively hung, local farmboy Cory Flint. After some knee-trembling oral, the scene climaxes in a hot three-way fuck with Manning the delicious meat in the sandwich.
Scene four teams young college jock Zane Jacobs and football coach Nick Capra who get down to some sweaty desk-top fucking, while next up it's Manning and Cobb, again fucking in the great outdoors.
Scene six delivers the first of two steamy scenes that feature the donkey-dicked, cigar smoking cop Josh West putting Jackson Wild through his paces to see if he's police officer material. First up it's college teacher O'Donnell who joins Officer West for the lad's 'training' while in the final scene, young Wild takes a triple dose of cock when he's up against Capra, Carlisle and Officer West.
There's certainly a lot of heat in this Texas town but there's definitely nothing slow in the action it delivers.
---
Available from www.TitanMen.com
---