The capital of Spain, Madrid is a vibrant city full of beautiful historic buildings, oh, and some very sexy men. Collin O'Neal's been in town to sample the local delights and, judging by the beautiful men he encountered on his travels, we're sure he wasn't disappointed.

Scene one and Collin has lost his way on the streets of Madrid. He asks directions from Lucas Andradez, a shaven-headed muscle-bound hunk who, instead of pointing Collin in the right direction, takes him back to his apartment. Before you can say 'buenos días' the guys are stripped off and Lucas is on his knees, back arched and offering his perfectly round bubble butt up to Collin.The locals certainly appear very accommodating and Collin, embracing the local hospitality, rogers Lucas like a true Brit.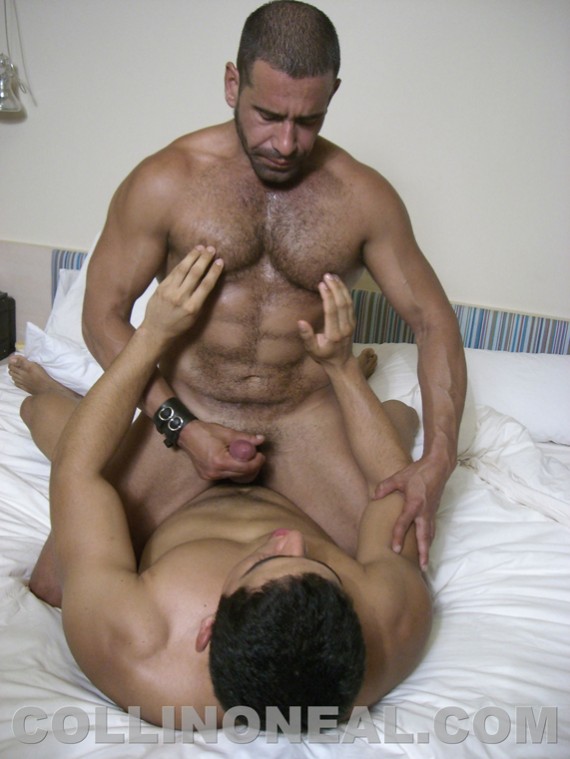 Aitor Crash and Dennis D'Nello invite ripped Brazilian Igor Bad to join them for a fuck session in scene two and when he arrives Igor has no idea of the intense fuck he's about to walk in to! Igor starts on his knees with both guys pawing at his tight hole, eager to fuck him, before they head to the bedroom where Aitor and Dennis take it in turns fucking the sexy little pocket rocket.
Real life Spanish boyfriends Daniel and Fabio make out on a sun-drenched Madrid rooftop ahead of a testosterone-fuelled fuck between sexy hunks Leo Rocca and Pablo Santana. It's said that the guys had never met before they had sex together on film, so whoever paired these two deserves a medal as the sex is electric.
In scene five, Collin has an alfresco fuck with smooth muscle boy Robert Brankov. Robert's got an arse that's just begging to be pounded and so Collin obliges again and again. Don't miss Collin and hot Cuban Tito in the shower in the 'bonus scene' – it's worth hanging out for.
---
Available from www.CollinOneal.com
---