We knew that when sexy fuckers Damien Crosse and Francesco D'Macho set up their own company Stag Homme Studios, the movies they'd produce would be incredibly horny. And we're proved right with Stag Reel, a six feature DVD with some of the horniest sex and hottest guys we've seen in ages.

Scene one and we're treated to Argentinean power-bottom Max Schutler and two of Stag Homme's massively endowed tops, Venezuelan Lucio Saints and new-comer Greek stud, Biktor Vossou.
It starts with Max getting double face-fucked by the two sexy studs before they fuck him hard, fast and deep on his knees.
Next Max's arse gets annihilated when Lucio and Biktor double-fuck the cum out of him, then just check out one of the guys' impressive cum shot. Jean Franko and Damien Crosse are up next and tough guy Jean Franko puts sleazy fucker Damien through his paces and aggressively fucks him in four jaw-dropping positions.
And you just know Damien is loving every minute of it, proven when Jean Franco pounds a hands-free cum shots out of him!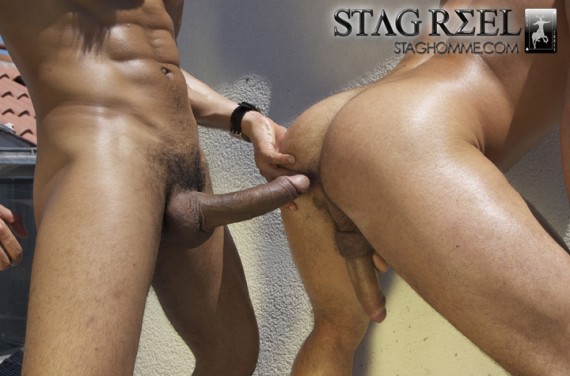 Francesco D'Macho stars in a classic 'plumber comes calling' scene next with gorgeous Stag Homme exclusive Bruno Fernandez Gutierrez. There's some tongue-in-cheek talk about fixing pipes, then Bruno tells Francesco that he's got another pipe that needs looking at.
Francesco's only too happy to suck on the hunky plumber's cock before he gets drilled in the arse twice ending with a messy cum shot all over his face.
Damien's back next on a Madrid rooftop with Lucio Saints and, once again, Damien proves his expert deep throating skills before both guys take turns fucking each other. Due to a limited word count we'll have to summarize the final two scenes but, take it from us, they're no less horny than the first four.
Brazilian boys, Pedro Andreas and newcomer Petter Fill go for it in their own hot and sweaty muscle pool party in a rooftop hot tub in Madrid, before the final spunk-filled three man finale starring Damien and two of Stag Homme´s hottest exclusives, Cuban muscle-god Tomy Hawk and the bright-eyed Catalonian, Bruno Fernandez Gutierrez.
Needless to say, cum greedy Damien gets his wish from the two aggressive newcomers in one of this year's hottest scenes.
---
Available from www.staghomme.com
---