There's something about straight boys having gay sex that's sooo horny! Watching a guy get his first boy-on-boy blow job or sliding his dick up another man's arse for the first time makes us cum bucketloads! And those guys at UKNakedMen obviously think so too as for their latest release, took their best and straight(est) boys and filmed their gay experiences.
Our favourite porn scenario – sex in jail – is the order of the day for scene one and Paddy O'Brian's is wanking his meaty cock in his cell.
A smartly dressed guy with glasses, that we don't at first recognise, is in the adjoining cell, watching intently. They share a cigarette, giving each other horny blow backs through the prison bars, before the nerdy looking guy with glasses, drops to his knees and starts sucking Paddy's cock.
Then, as the shirt and tie come off and he removes his glasses we realise that the 'nerdy' looking guy is, in fact, sexy-as-fuck Will Helm! And there's another surprise to come when Will (who's usually top) bends over and pushes his butt up against the bars for a good hard fucking from Paddy!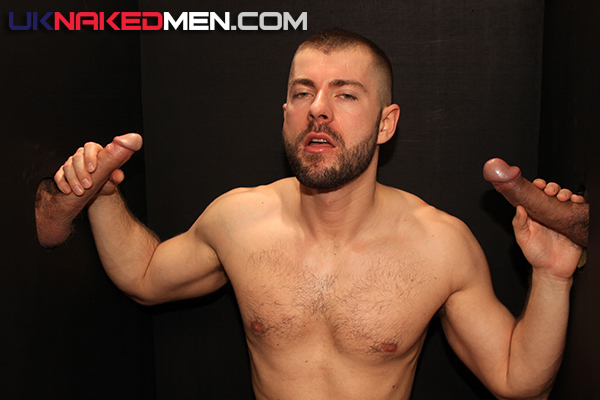 Malik Tn – aka The Torpedo – is up next and after some very horny foreplay (we never normally say that!) the thick cocked Frenchman power-fucks hot skinhead bottom boy Tony Axel to within an inch of his life… Lucky bastard!
David Duke and Mike Douglas star next as two horny army cadets wanking in their beds before Johann Banks shows us his expert oral skills when he's on his knees sucking off multiple anonymous cocks in a horny as fuck glory hole scene.
When Hayden Kane accidentally knocked over straight rich guy, Stefan Stewart's drink he couldn't have imagined that his punishment would be to give up his arse, not just to Stefan, but also Stefan's bouncer Nathan Price…
We wouldn't advise you to go knocking over straight geezers' pints at your local straight nightclub in the hope that they'll fuck you as punishment though. We did and all we got was a black eye, a couple of broken fingers and a fractured rib.
• Available from Prowler, Expectations, White Tiger and all good DVD stockists, and at www.ProwlerDVD.com.