If the kind of porn that gets you off involves two bronzed hunks rolling around on satin sheets, then you won't like Street Thugs. If, however, the thought of thugs, chavs and hard lads in trackies and trainers, roaming the streets hunting for willing bottom boys and less willing, weaker lads to use and abuse in derelict buildings and underground car parks turns you on, then you'll love this DVD!
A couple of years ago when he was a twink, Kai Cruz used to get fucked in porn. But now he's the rough, demanding top guy, and in a derelict factory he gives blond twink Max Schellenberg a relentless fucking, before allowing his boy to shoot his load over his Nike trainers. Up next, Max Exe and Florian Hagen are a couple of sexy-as-hell, drug-dealing hoodies who, having just sold him a bag of weed, decide they want to spit-roast cute young scally Moskito.
Once his mouth and arse have been raped good and proper, all three lads spew bucket loads of the white stuff… If you like 'heavy cummers' you'll love the climax of this scene! We've always had a thing for six-foot Frenchman Jordan Fox, and he's up next with bottom boy Tony Maya. The lads are in a deserted underground car park where Jordan's forcing Tony to suck his thick nine-inch cock and worship his trainers.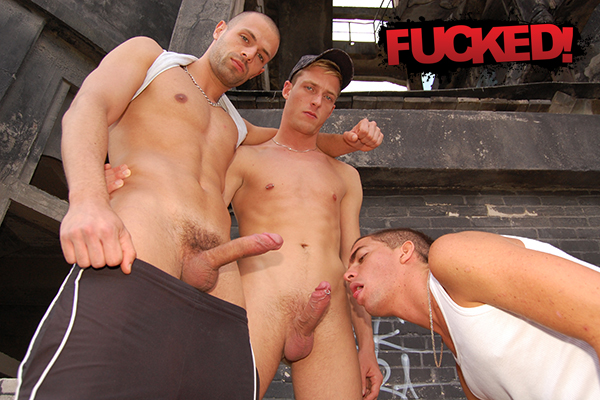 Soon Jordan's dominant streak comes out and he pushes Tony over an old box and begins his anal assault. Jordan's the type of aggressive power top that sub lads the world over fantasize about, and he spanks Tony's arse and glares into his eyes until he pulls out and shoots his load all over his face. Two hot chavs, Ivan Rueda and Timo Krupp, are watching sexy skinhead Ruben Fux exercising in the park, and decide that they can give him a much better work out.
Ruben's face down, doing press ups when they pounce on him, and they take turns fucking his face, making him choke on their cocks, until they decide he's ready to get fucked. The final scene sees our thugs off the streets and in a train carriage. Foot fetishists will love this one as, before gang ring leader Ronny fucks Jaden Idol's tight little arse, he forces him to lick his trainers and suck his stinking Lacoste socks.
• Available from Prowler, Expectations, White Tiger and all good DVD stockists.