Tony Dimarco directs four hot-as-hell scenes with a cast that's off the Richter scale! Seasoned Falcon Exclusives Landon Conrad and D.O are joined by two new studio Exclusives, red-hot Brit Paddy O'Brian, who scorches in not one but two sensational scenes, and relative newby, the gorgeous Jimmy Fanz. Throw superstars Dean Monroe, Bryce Star and Marc Dylan into the mix and you have a recipe for a Falcon classic. 
As D.O. steps out of the pool, his trunks cling to his God-like body and reveal the contours of his huge cock – damn this guy really does have it all! It steadily grows as he eyes Dean Monroe, who's sleeping naked just inside the house, and it's not long before his face is buried between Dean's cheeks.
As Dean wakes up, D.O.'s waiting and fucks his face before swinging him round so he can get his tongue in Dean's arse, lubing it up ready for his cock. D.O. fucks like a steam train and even champion bottom Dean has to request time out during D.O.'s relentless pounding.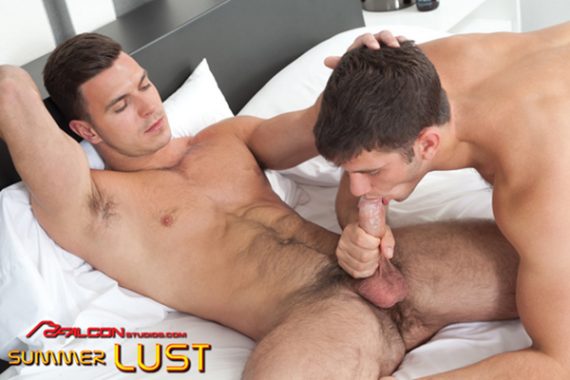 Paddy O'Brian's Falcon debut is with Marc Dylan and it's a blinder! He goes for Marc's arse and power fucks his scene buddy until he shoots and then leaves his own globs of spunk on Marc's trembling body. This month's cover star and centrefold, the gorgeous Landon Conrad, is up next with All-American hottie Bryce Star.
Bryce pulls Landon's cock from his shorts and devours the throbbing meat, before Landon munches on Bryce's arse, loosening it up ready for his cock. Paddy's back in scene four and this time he's given Jimmy Fanz to play with. Jimmy goes starry-eyed when Paddy walks by, and when Jimmy cunningly strips off his clothes and wades into the pool, Paddy, is quick to follow.
Soon their lips are locked and Jimmy gets down to business on Paddy's prime British cock. Soon the two hairy chested guys head to the bedroom and get down to some high energy fucking.
Paddy's a fuck machine and his relentless pounding stretches Jimmy hole wider than he thought was possible! It's a total meltdown for Jimmy and his cock explodes just as Paddy blows his load, leaving his calling card of thick white spunk nestled in the curly black hair on Jimmy's stomach.
• Available from Prowler, Expectations, White Tiger and all good DVD stockists.