It's the series that just keeps getting bigger, as director John Smith presents another collection of some of the hottest, the horniest and – most important of all – some of the biggest boys around. 
Connor Levi is a brave young twink for taking on Devon LeBron, who just loves to fuck white arse, and he doesn't waste any time in reaching for LeBron's thick black mamba.
Before you know it Levi's slurping down on all that dark meat like a man possessed – and can you blame him! After plenty of hot anal, Levi offers up his arse like a lamb to the slaughter, but takes LeBron's monster cock like a trouper!
Young beauty, Felix Webster, is shopping for a new suit and sales assistant, Zac Todd, is using his tape measure to not only calculate the size of his client's inside leg but also the length of Webster's thick, meaty, uncut cock.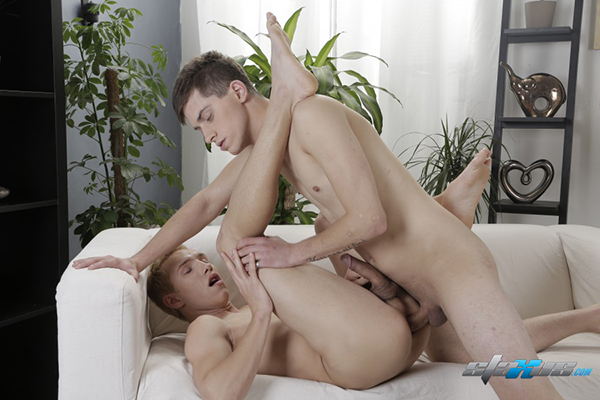 And as soon as he realises its size he's in there like a shot! Sven Laarson and Ryan Olsen are on a date to remember and having so much fun trying out different positions – especially Olsen, whose butt is stretched to the max by Laarson's meaty ramrod before he finally succumbs to nature's urge and dumps a fine wad of jizz all over his own stomach.
Two angelic blonds in the shape of Adam Brooke and Chris Hollander star in the final scene. They're a couple of dashing newbies that fans of blonds, twinks, big cocks, you name it, are going to fall in love with!
Certainly neither of these lads are prepared to leave anything to the imagination as they take turns to slobber on each other's dicks, before baby-faced Brooke heats up proceedings even further by rimming Hollander's arse and then finally burying his badly swollen shaft right up his mate's pucker!
Clearly not wishing to miss out on the excitement, Hollander is soon pounding away at Brook's rump in return, before matters reach something of a crescendo and Brooke dumps his wad all over Hollander's knob.
Cue a fantastically erotic gobble of jizz-soaked dick by Brooke, which is only compounded further by his pal jerking out his own sticky contribution, topped off by a sultry French kiss!
• Super Size Me! 7 is available on DVD at www.homoactive.com and as VOD stream at www.homoactive.tv