You can almost smell the sweet scent of perspiration seeping through the pores and dripping from the skin of these TitanMen hunks in Director Brian Mills latest movie for Titan Media. TitanMen exclusives Jessy Ares, this month's drop dead gorgeous centerfold Aymeric DeVille and J.R. Matthew head a cast of stunning guys in Sweat Equity. and once you've watched the DVD you'll need a box of Kleenex, not just to wipe the spunk from your cock but to mop the sweat from your brow.
Cleaning Jessy Ares' Jacuzzi, blue-collar hunk J.R. Matthews is unaware that Jessy is admiring his arse, and who could blame him. After accidentally soaking the stud with water, J.R. advises him to wash away the solution and in a flash the two hunks are butt-naked in an outdoor shower, soaping each other's perfect bodies. Pinned to the wall, J.R. gets his hole slurped and his dick serviced, before he bends over the Jacuzzi for Jessy to slide his thick dick inside him for an outstanding fuck sequence.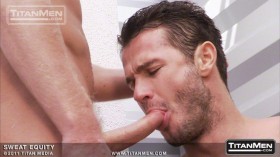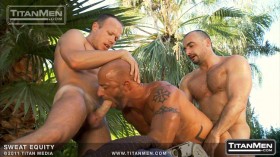 This month's stunning centerfold, bald muscle hunk Aymeric DeVille is up next and gets his beautiful muscle butt hammered by horny handymen Frank Philipp's massive tool and Ethan Hudson. They tag-team his arse and mouth in an al fresco spit-roast scene that leaves Aymeric exhausted and dripping in sweat, and we guarantee will make you cum.
On a work break, Mack Manus and Kyle Quinn bake in the sun and are obviously hot and bothered. After getting naked, top guy Mack aggressively shoves Kyles head down on his rock hard cock, making him gag. Mack then turns Kyle around, spitting on his hole as his hands spread the cheeks wide. The alpha top slaps Kyle's ass, leaving an imprint of his hand before fucking him fast and deep. Kyle jacks out a load as he gets plowed, and Mack's wad lands on the bottom's thigh as the poolside passion comes to a close.
---
Available from www.TitanMen.com
---