Grand Madame of the porno world, Chi Chi La Rue, casts her artistic eye over this latest title, which sees a boat load of buff young things getting it on against an ever-changing, minimalist monochrome backdrop… Try saying that with a cock in your mouth!
Scene one sees tattooed stud Johnny Hazzard sitting on a throne waiting to be serviced by bottom guy Cavin Knight. He's soon straddling Johnny and getting his baby smooth tongued, fucked and worked over with a dildo. Cavin's reward is a shower of Johnny's cum and, like a spurting pipe, should come with a hazard warning!
A particularly hot solo moment sees horny Jayden Grey ram a dildo hard up his tight hole to start scene two. He's soon joined by blonde stud Mitchell Rock who starts off dominates the reclining stud. But Jayden soon takes charge and pounds beefy stud Mitchell hard against the black and white backdrop.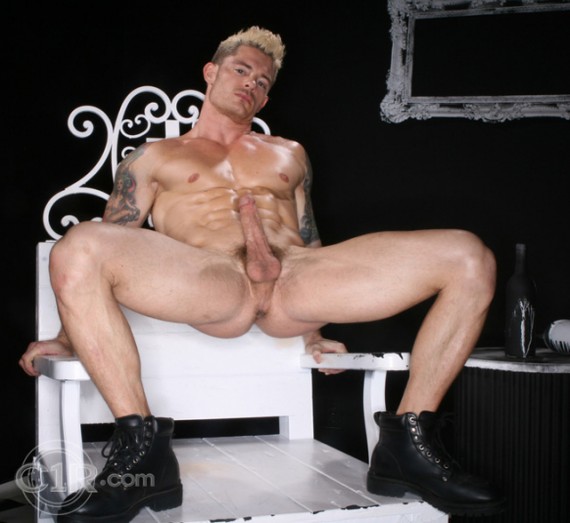 Scene three sees Parker London force his tool down the throat of a smokin' hot Trent Locke – and then vice versa. Hunky Parker sits atop of the chair as Trent buries his face in Parker's muscular arse, but Parker soon shows him who's boss and Trent gladly takes his monster piece doggy style. We must admit that Trent is our favourite. He's a slightly hairy and unassuming guy with a beautiful face and a cock to match… Phwoar! The resulting explosions of cum from this steamy session is the perfect cherry on this filthy fuck-fest.
Last, but certainly not least, we're treated to sexy fucker Brent Everett who's meaty cock is already rock hard and raring to go and straining through a pair of tight white briefs. Brandon Wilde can't keep his hands to himself and pulls out Brent's man-sized schlong and takes it to the hilt like the good slut he is! And after Brent gets his tongue into Wilde's begging-for-it hole, he's rewarded by a mega-fuck by Brent's cock resulting in a frenetic explosion of hot cum.
---
Available from Prowler, Expectations, White Tiger and all good DVD stockists
---