For some, the task of managing a hotel where around every corner there are sexy young twinks waiting to distract you, would be too much to handle. But not for hot young Eurocreme Exclusive Billy Rubens, who had no problems taking control of the staff and guests at The DreamBoy Hotel.
Young Darius Ferdynand comes looking for The DreamBoy Hotel's previous Manager, J P Dubois, and instead finds Billy, suited and booted and looking mighty fine. There's an obvious attraction between them and when Billy offers him a room for the night, free of charge, Darius knows exactly how to repay Billy's kindness.
When we next see Billy he's on his back getting one of the most sensual blowjobs we've seen in porn this year! Soon though Darius' sexy butt needs some attention and he sits on top of Billy and bounces on his rock hard cock until both lads spunk their loads.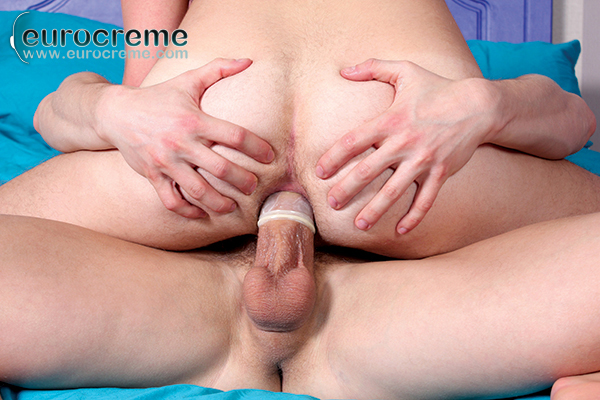 Another Eurocreme Exclusive, cute blonde Danny Daniels, is sneaking his army pal Josh Jared into his room for a couple of beers in scene two. Josh is a rough straight lad but, after just a couple of drinks, Danny manages to talk his mate into getting his cock sucked. Josh likes it so much that soon he's letting Danny rim his virgin arse before letting his mate take his cherry!
When Luke Desmond barges into Billy's office in his overalls with his massive trouser snake hanging out, Billy – like any hot blooded male – is straight on his knees and filling his mouth with as much of Luke's cock as he can. But that's as bottom as Billy goes, and soon he's got Luke bent over with his shoulders pulled back, as he pounds his arse.
Arriving home after a few too many beers, Danny appears to have lost his sexy straight mate Josh, and crashes out in reception. He's found by Darius, who helps him back to his room, and once the boys start playing Danny soon sobers up! Darius sucks on his new fuck buddy's cock before raising his delicious arse up in the air so that Danny can eat him out. The best is yet to come though when Darius rubbers up and, taking no prisoners, fucks Danny deep and hard.
• Available to buy at www.eurocremestore.com or watch high quality streaming at www.eurocreme.com.