It's a case of 'Game, SEX and match!' with Euroboy Sport's Tennis Lads, and when these young Argentinean twinks jump over the net to congratulate their opponents, they give them a bit more than just a friendly pat on the back.
After the match in the changing room, the shorts come off and these horny lads get down to some serious post-match fucking, and while cover boy Harold Zen takes advantage of his fan's eagerness to please by feeding them his massive cock, Euroboy favourite Lukas del Plata bottoms for the first time!
Scene one and a cooling shower turns into a hot session when Dave Cordova, a computer technician, turns up to do a bit of maintenance. Hard drives give way to hard-ons, as Dave sits wanking and watching tennis pro Lukas Del Plata. This scene was the first time that Lukas had been fucked on camera, and he's soon receiving Dave over a chair!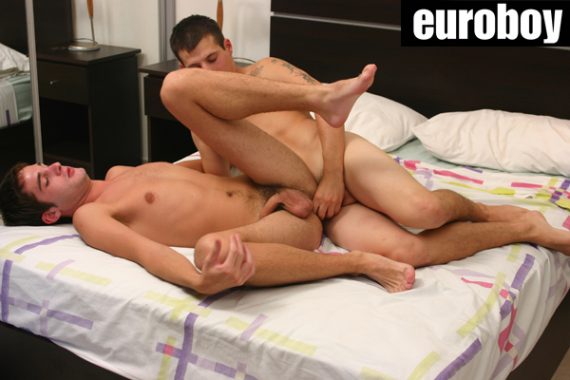 Fausto Del Miedo and Paulo Paz are getting it on beside the swimming pool, and soon they're sucking each other's cocks. Diego Track, third young twink who's just back from tennis practice, watches them while stroking his cock. Soon the action shifts to the players' lounge, where the young lads get down to some hot three-way bum-banging.
Scene three, and we're treated to a solo shower jerk-off with Harold Zen. Harold's a cute young Latino and wanks his stiff cock with a passion and spurts out a massive load! Ball boy Santiago Masur watches as tennis star Lukas del Plata practices alone. A few glances are exchanged, and both young lads know the score!
They retire to the bedroom and before you can say "Advantage Santiago Masur", the ball boy is having his balls, cock and puckered hole eaten by Lukas. After an energetic 69-er and more rimming and sucking, the ball boy gets the fuck of his life! Meanwhile, tennis pro Harold Zen is relaxing in the apartment, his heavy balls, full of spunk, hanging low out of his shorts.
Federico, an eager fan, arrives to ask for an autograph – and gets a bit more than he was expecting! He squats on the Harold's meaty cock and then swallows the pro's thick load of spunk, before shooting his own load.
• Available to buy or watch high quality streaming at www.QXMEN.tv