We've lusted after young Luke Desmond for what seems like years, yet he still only looks about 19-years-old! So thank you Eurocreme for putting some of the donkey-dicked lad's best scenes (five in all) on to one DVD. Our only complaint is that it's not a five-disc box set!
The first scene is taken from Rudeboiz 20 – Caught On Camera, and Luke's partner in crime is Danny T, another young lad with a dick of death that's almost as big as Luke's!
It's a hot scene and the action – Luke getting his boy butt stretched by Danny's monster cock – takes place on a no-frills Rudeboiz-style trashy council house sofa… Who needs exotic locations when the sex is this good.
Scene two is a hot three-way taken from the DreamBoy Hotel's Grand Opening. Luke plays a handyman who helped fit out the hotel, and to show his appreciation for all Luke's hard work, Hotel Manager, JP Dubois arranges a little thank you present for him… young delivery boy Aaron Samuels.
Peroxide blond Aussie Joe Bondi is the lucky lad who gets his fill of hot al fresco sex with Luke and his monster cock in an outdoor scene taken from CountryBoy, before we're treated to another scorcher of a three-way from Alphamales' Tough Dads Bad Lads. Luke and Billy Rubens play decorators and their boss is hairy young daddy Damian Boss.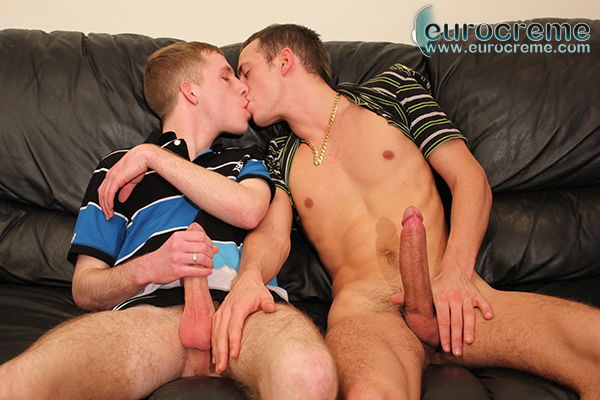 Damian's in a bad mood and bossing the lads about. Peeling off his overalls he barks, "Come and suck me off – both of you!" and Luke and Billy share Damian's thick cock, taking it deep down their throats. Luke soon gets what's coming to him, and Damian fucks his arse hard as Billy gets his cock sucked off!
We're back to the DreamBoy Hotel episode On Leave for the final scene, a scorcher that's been described as "one of the hottest twink fucks ever!" This time Luke's scene partner is Skylar Blu. Skylar's a dirty bugger and his wandering eyes soon focus on Luke's bulge in his overalls. In an instant he's pulled them apart and has Luke's nine inches of meat in his hungry mouth and down his throat.
Sucking his colleague's huge dick like a man possessed, Skylar wants more. He wants it up his arse!  And he doesn't have to wait long to get his wish… lucky lad!
• Available to buy at www.eurocremestore.com or watch high quality streaming at www.eurocreme.com.