Monster-hung Matt (11 inch) Hughes is probably the UK's most famous extra extra large top stud fucker, and he's back in a second collection of his most notorious UKNakedMen fuck scenes.
These four scorching hot scenes include the outstanding milkman scene when cock-hungry Ross Hurston performs his jaw-dropping (literally) oral skills, and the sleazy toilet four-way sleaze-fest that leaves young Andy O'Neill drenched in spunk!
4 A Good Time features Tyson Mac and Darren Robins, two sexy-as-fuck top geezers who join Matt in a public toilet where they fuck the living daylights out of cute young twink Andy O'Neill's angelic little bum. It was Matt's debut video for UKNM and he gets right dirty with his mates as, one-by-one, they all fuck Andy before taking turns squirting massive cum loads all over his face.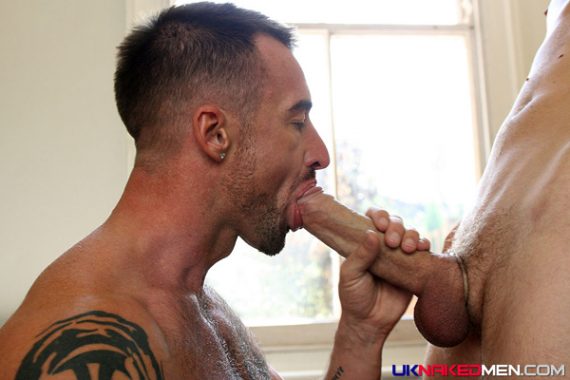 In The Milkman, Ross Hurston takes a delivery, not like the package he receives from Tyson Mac in The Postman, but this time the delivery comes in pints… straight from Matt's cock! It's UKNM's very own oral tribute to the cheeky sex films of the 1970s.
Sword-swallowing Ross Hurston is probably the only bloke we've ever seen who can take Matt's massive member right down his throat, until Matt's pendulous bollocks are banging on his chin. Ross's deep-throating skills really do have to be seen to be believed!
In Shifters young Kyle Lucas is the lucky lad who gets a ride on Matt's 11 inches. We say he's lucky, but we have a feeling that Kyle may have regretted agreeing to film the scene when we saw the look of terror in his eyes as Matt impales him on his dick of death!
Matt and Kyle are removal men who work for UK Naked Men Removals, and when the owner of the house they're in pops out and leaves them on their own, Matt wastes no time, bends Kyle over and gives him the fuck of his life!
• Available from Prowler, Expectations, White Tiger and all good DVD stockists.