Butch Dixon serves up an international feast of the biggest stars in gay porn today, and they're back for a second helping of the Brit flick studio's successful release from last year, The Big Guns. Expect plenty of big cocks and plenty of big name studs getting it on and fucking like their lives depended on it, in two hours of DVD exclusive hardcore filth in The Big Guns 2!
The Big Guns 2's cover boy, legendary porn star Johnny Hazzard is put through his paces by sleazy Spanish fucker Aitor Crash and his sexy muscled sidekick Gio Cruz. In what Johnny described as his "most acrobatic scene ever" the sexy American doesn't just bend over backwards to please his fellow jailbirds, he gets fucked in every position possible.
Butch Dixon adds Ricky Sinz to his cast of international stars, and it's Scotland's bald headed and bearded Alan Knight who gets well and truly nailed by the tattooed American hard man.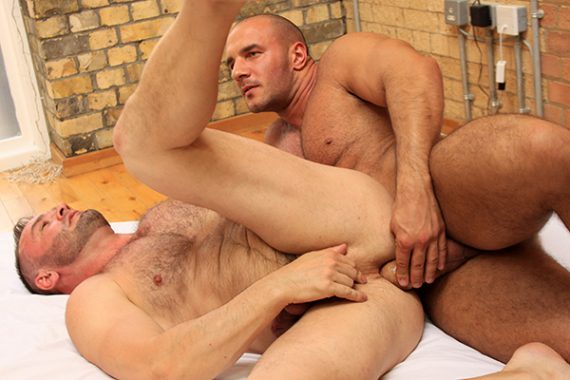 We warn you – this scene is not for the faint-hearted, and your sphincter will be left clenching out of sympathy for Alan's! Representing Britain are Ross Hurston and Duke who star in a wrestling match scene, and after some seriously sexy, sweaty fight action, Ross grapples Duke into submission and out of his Lycra wrestling suit.
What follows is some awesome man-on-man fuck action where Ross quite literally fucks the cum out of Duke! We're treated to the magnificent sight of Latino muscle man Jean Franko's meaty bubble butt, spread open and then skewered by tattooed British hunk Harley Everett!
Usually the aggressive top guy, this time the shoe's on the other foot and sexy Jean Franko gets a right royal shafting, as Harley bangs his muscle up to the nuts in the Latino hunk's hairy hole.
And last, but by no means least, Hungarian body builder and he of the unfeasibly large penis, Ted Colunga, smashes in Uncle John's back doors in a ball busting finale that left poor Uncle John (and indeed us the viewer) as a spent, kicked about rag on the floor…
• Available from Prowler, Expectations, White Tiger and all good DVD stockists.