Join ten muscle-bound studs as they explore domination and submission in the latest Hot House leather blockbuster. Watch as they deliver five hardcore scenes of non-stop sucking and fucking that will leave you quivering in your boots!!
Greedy bottom JR Bronson is fingering his arse waiting for a Dom to come and service his hungry hole. Franco Ferarri enters the room looking hot in a latex apron and firemen's gloves and injects JR's hole with lube before loosening it up with his big hands and an enormous dildo!
Franco wants his cock sucked though and, ordering his Sub down on his knees, he forces him to sit on a dildo while he feeds him his cock. Menacing Dom Trenton Ducati has James Ryder locked up in a cage next.
He's been a bad boy and Ducati's gonna make him pay. He humiliates him by forcing him to drink fromf a dog bowl, chew on a leather bone and bark like a dog. Then after opening his arse with a puppy dog's tail butt plug, power top Ducati bends his sub boy over and pounds his hole.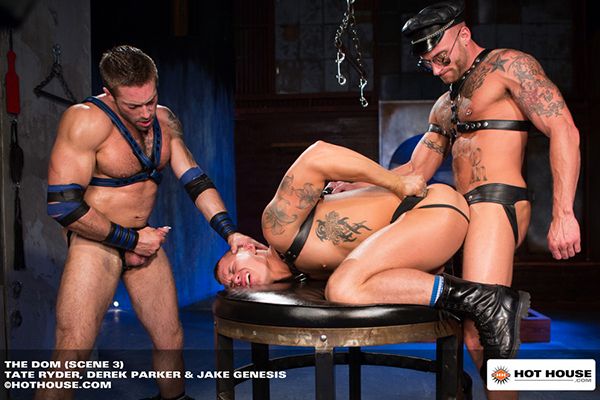 Jake Genesis has Tate Ryder shackled to a handlebar hanging from the ceiling next and he's got his sights on set on Tate's big round bubble-butt. Defenceless and completely at Jakes mercy, Tate has no choice but to open his hole as instructed so that the handsome leather top can fuck him hard.
Neither guy realises that Derek Parker is watching them through a grimy window, but when Tate sees him, he motions to him to join in the action and Derek obliges, pulling out his big cock and smacking Tate in the face with it.
Then the two tops flip Tate over so their captured bottom can suck Derek's cock while Jake fucks his arse. Scene four stars Mitch Vaughn and Jimmy Durano, two guys with beautiful arses.
But Jimmy is the Dom in this scene and it's Mitch's perfectly round, smooth butt that gets a hard drilling. Franco Ferarri has been chained to the wall in the final scene and he's waiting to be dominated by Jordano Santoro.
He begs to be fucked but Jordano takes charge and pulls out a flogger and warms up Franco's arse before taking him down and forcing him to bounce up and down on his master's cock.
• Available from Prowler, Expectations, White Tiger and all good DVD stockists, and at www.ProwlerDVD.com.