On leave from the military, sexy young new cummer Danny Daniels checks-in to the DreamBoy Hotel hoping to catch up with manager JP. However, when QXMEN favourite Eurocreme Exclusive Billy Rubens greets him at the hotel reception, his priorities suddenly change and the non-stop sexual exploits of the latest DreamBoy Hotel production start in earnest! We say goodbye to JP, but say hello to some big dicks and hungry holes belonging to the staff and guests of the DreamBoy Hotel.
Billy's up for some lessons in army training and takes the sexy blond lad straight back to his room where the guys strip each other off and Billy fucks the horny young soldier good and proper.
Manager JP and gorgeous twink Aaron Aurora are up next, and when Aaron drops off some packages he almost catches our horny hotel manager having a wank at reception! Quickly tucking it away, JP still has the horn and needs to cum, so he takes Aaron upstairs to his office to find a 'package'.
No prizes for guessing what the 'package' was and JP's soon forcing his stiff cock down Aaron's throat and rimming his wet and juicy hole, before going for gold and giving Aaron's smooth, milky white boy butt a hard fucking!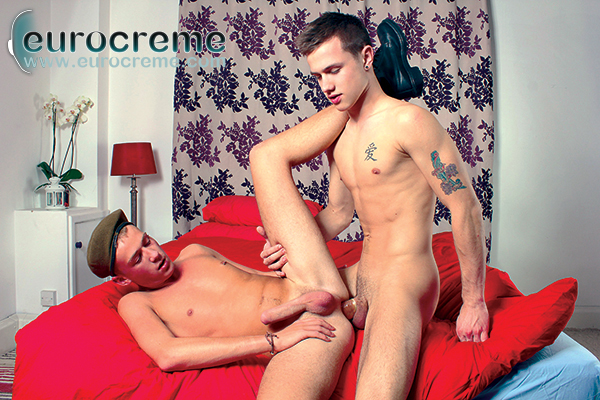 We're treated to a solo next starring hot young army recruit Danny, who we watch sniffing his sweaty army uniform and shooting a load all over his smooth twinky chest. Just before JP leaves the hotel he's got one last goodbye to say, and he and Billy have one final fuck together.
They spend time sucking each other before JP gives Billy something he'll remember forever. Pushing him on all fours, JP spreads Billy's arse cheeks apart and licks his hole for the very first time. If only this was the lead up to Billy's first bottoming scene, but no, JP's butt is firmly on the menu and Billy screws him into the bed.
The rumours surrounding JP's swift departure are rife amongst the hotel's staff and Luke Desmond and Skylar Blu are discussing what's going on in the stock room. It's not long before Skylar grows weary of talking about JP and his wandering eye focuses on the huge bulge in Luke's sweaty overalls.
In an instant he's pulled them down and soon he's getting every inch of Luke's impressive trouser snake pounding in and out of his hungry open hole.
• Available to buy at www.eurocremestore.com or watch high quality streaming at www.eurocreme.com.