This stud-filled exclusive collaboration between Falcon Studios and Next Door Studios has a stellar cast of stunning men. And if these guys lived next door to you, you'd want to stay home all day and watch them in action!
Marcus Mojo and Landon Conrad are by the pool. Marcus pulls Landon's stiff cock out of his pants and begins to give a cock sucking worthy of a gold medal. Landon wants to show off his rimming skills on Marcus's sweet butt and they trade places. In between bouts of licking and probing with his tongue, Landon takes water in his mouth and spits it on Marcus's hole until it's well prepared to take his cock, and he's soon slamming away, deep inside Marcus's hungry arse.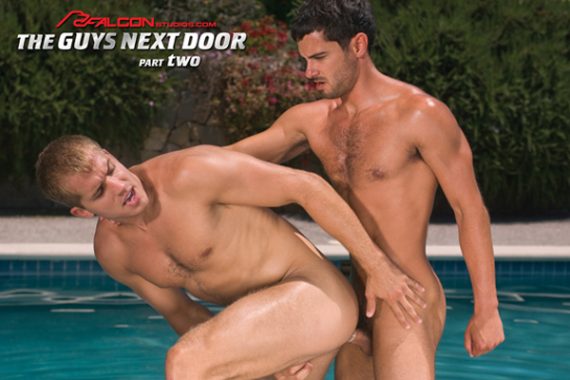 Hottie Rod Daily knocks on Paul Wagner's door and soon they're making out. After a bit more sucking face and groping each other, Rod's shorts come off, and Paul heads downtown for some dick.
Paul's shorts come off too and Rod bends over the sofa to let Paul continue the praise on his smooth, round butt before he pummels Rod's hole. Emerging from the hot tub, Trystan Bull strokes his cock through his trunks, and pulling them down, he starts to play with his juicy uncut meat.
Marcus Mojo is watching from a distance and heads over to suck on Trystan's cock. Marcus must be one hell of cocksucker as very soon, major squirts of cum shoot out of engorged Trystan's shlong! Brandon Lewis and Donny Wright finish a swim, come out of the pool and start to fuck straight away.
After sucking Donny's cock, it's clear that Brandon's mouth isn't the only thing that's hungry; his arse is also in need of filling. So he lays back and let's Donny screw his beautiful butt.
Trystan Bull is rubbing sun cream into his amazing muscled body and Andrew Jakk heads over to help out. He quickly wraps his lips around the Bull's horn and blows it so well that Trystan rewards him with a long hard fuck.
• Available from Prowler, Expectations, White Tiger and all good DVD stockists.