Dolph Lambert combines wholesome blond good looks with down-to-earth farm boy roots – the perfect recipe for a true BelAmi superstar.
Raised by parents, who are educators by profession, it should not come as a surprise that he is so well-rounded. But it's Dolph's "undeniably naughty charm" (as George Duroy puts it) that continues to delight his fans.
These six sizzling episodes provide a behind-the-scenes peek into the erotic adventures of Bel Ami's blond-haired, blue-eyed heartbreaker… The Private Life of Dolph Lambert will have you hitting the rewind button over and over and over again…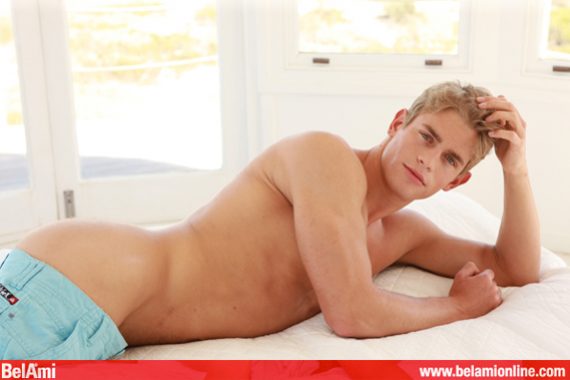 Join Dolph on a photo shoot in lush Cape Town, South Africa. Then watch him explore his playful, flirtatious chemistry with hunky Colin Hewitt and super-hung Canadian stud puppy Ralph Woods.
The notion of brawny Dolph making love to gorgeous, ripped Jason Knightley was so enticing that BelAmi fans demanded that the studio make it happen. And boy, is it worth it! Elsewhere, go deeper with Dolph on two of his most popular episodes.
First, the young stud happily gives in to the erotic instruction of studly Brandon Manilow in a dreamy, outdoor sex romp. And finally, one of his most-talked about match-ups—Dolph's scorching hot duo with muscular hunk Manuel Rios.
Dolph sucks down Manuel's thick, gorgeous boner in the bathroom of a nightclub before they rush home for a sensual flip-fuck that bubbles with genuine erotic heat. Tune in for never-before-seen candid moments during the filming of both scenes.
Click here to visit BelAmi Online
---
Available from Prowler, Expectations, White Tiger and all good DVD stockists.
---