THERE have been reports of odd noises and blinding lights in the primal redwood forests of California, and something very peculiar is happening to the town's men folk. Guys who've never looked at another man are finding themselves with raging hard ons and an irresistible need to suck, fuck or get fucked by other guys! Some are saying "there's aliens in The Woods"… Could it be true? 
Our first glimpse into The Woods finds buddies Parker Wright and Dale Cooper kicking back with a joint by the campfire, having a deep conversation about what might be 'out there'. Just as Parker goes for a pee a weird metallic hum fills the air.
When it stops both guys' cocks are pulsating with a strange energy and, unable to control themselves, Parker and Dale strip and fuck like animals, as though they were possessed. Something about the strange fog draws camper Alex Graham out of the tent he's sharing with Chris Tyler.
When he comes back he dives straight under the sheets to suck Chris's cock and again, two guys who are usually buddies are suddenly fucking each other! Jimmy Fanz has a huge case of hero worship for Zeb Atlas, who takes him fishing in The Woods.
The fish aren't biting, but these two buddies certainly are when Zeb gives Jimmy the fuck of his life. The ground is vibrating, but it's no earthquake! Something's taken possession of hot forest rangers Tom Wolfe and Cal Skye and again, two guys that usually get hard at the sight of a woman in a pair of hot pants, but today they have raging hard ons… for each other!
Trenton Ducati is the forest ranger in charge of the area where people have been going missing. He's asleep, exhausted by the strange goings on, when he's woken by hot muscle daddy Tomas Brand. Tomas makes Trenton levitate off the bed and come back down hard, horny and needing to be sucked and fucked…
And so the strange goings on continue in The Woods!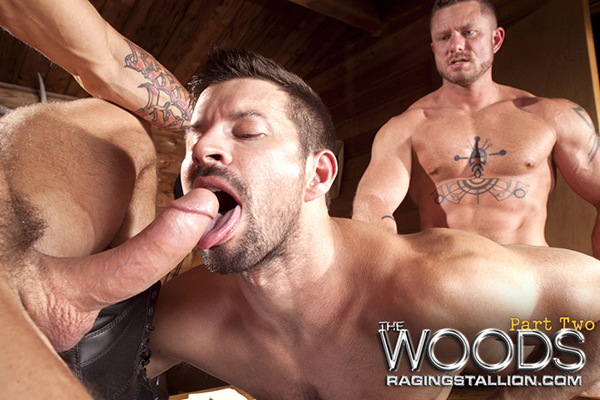 IN Part Two Jesse Santana and D.O. venture deep in the woods and D.O. pushes Jesse against the trunk of a tree and fucks him until he can barely stand. They move to a tree stump and Jesse practically hyperventilates as D.O. tongue-fucks his sloppy hole before giving him his cock.
Landon Conrad gets separated from his buddy Jessy Ares in The Woods, but when Jesse returns he's naked and Landon has an uncontrollable urge to have sex with him! Marcus Ruhl walks into Paddy O'Brian's tent and, finding him legs spread and playing with himself, helps himself to a mouthful of English cock.
Is every man in The Woods gay? It would appear so, when a dazed and confused Kyle King walks into Ranger HQ where Trenton Ducati is working. Kyle's hard on is demanding attention and Trenton's happy to help out. Then in walks Ranger Charlie Harding, who catches the horny twosome at it, and instantly gets involved.
As two becomes three their cum starts to spurt and as it does a mysterious blinding light shines upon them…… What can it be?
• The Woods Parts 1 & 2 are available in all good adult DVD shops and online at www.SimplyGayDVD.com