Watch what happens to a bunch of Internet sex predators when they show up at the Jet Set Men decoy house expecting to hook up with the hot chick they'd been chatting with online, only to be informed by Chris Jensen – played by Rob Romoni – that they been set up and the only way they're getting out of his house is to get their virgin butts fucked! 
Internet sex predator, 25-year-old country boy Riley Price shows up at the decoy house thinking he's going to have his wicked way with a girl, but little does he know that the only one who's gonna get fucked is him.
He's manhandled onto the sofa by hunky stud Brandon Bangs and is forced to take a hard arse pounding. But not before he gets a bare arse spanking, exactly what he was planning to do to the girl he thought was gonna be there.
The same fate awaits Jimmy Clay at the decoy house and his virgin butt hole gets fingered open before he's fucked hard by Topher DiMaggio.
Blond jock Andrew Jakk shows up next looking for some action with his Internet date. Once again, the tables are turned and he's the one who's going to be taking a cock.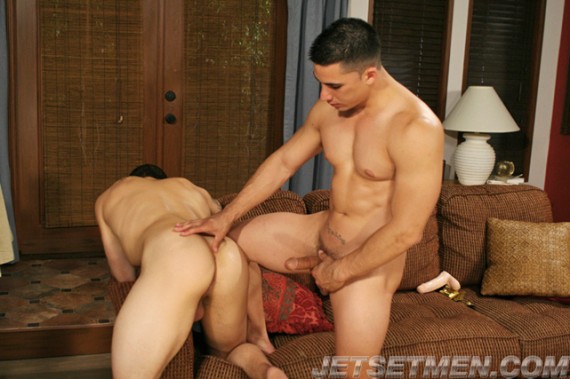 Spencer Fox walks in while he's adjusting his cock in his jeans and confronts Andrew about his dirty online chat. The cocky jock is forced down on his knees to suck Spencer's stiff cock before getting fucked good and hard.
By the fourth scene we're loving these revenge fucks the Jet Set Men are dishing out, and we can't wait to see what's in store for Joey Soto.
When Phenix Saint walks in the room we know we've hit the jackpot, and so with our cock in our hand we revel at the sight of Phenix forcing Joey's face down onto his rock hard tool.
We have to admit that it was the look of terror on Joey's face as he gets fucked by top guy Phenix that made us shoot a load!
• Available from Prowler, Expectations, White Tiger and all good DVD stockists.