When things start going wrong around the twink-run DreamBoy Hotel, who do they call in to fix things? The hairy daddies from Alphamales that's who!
Scene One and young hotel manager JP Dubois is at the end of his tether because everything is going wrong around his reception. In walks muscle-bound tough daddy Spencer Reed who's been called in to save the day, and it's not long before JP's down on his knees servicing Spencer's thick cut cock.
Spencer returns the favour, sucking JP's cock while at the same time loosening up his hole with his fingers ready for his cock. Soon JP's feeling the full force of Spencer's meat in his peachy young arse, getting fucked on his back, sitting on top riding Spencer like a bitch and then finally getting Spencer's load all over his face.
There's a hot three-way next when young twinks Luke Desmond and Billy Rubens are joined by hairy young daddy Damian Boss. Damien is in a very demanding mood, calling the shots and telling the lads what to do. Peeling off his overalls he barks, "Come and suck me off – both of you!" and so Luke and Billy share Damian's thick shlong with their tongues, taking it deep down their throats.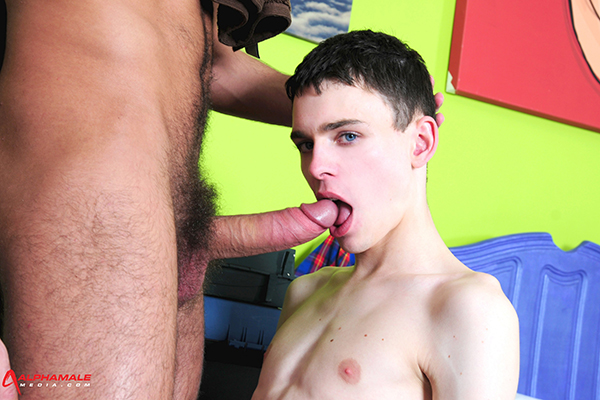 Super-hung Luke soon gets what's coming to him, and Damian fucks his arse hard right there in reception as Billy gets his cock sucked off! Not content with just fucking Luke, Damian spreads his own hairy arse for Billy to fuck too! While taking a shower after his session with Billy and Luke, Damian's disturbed by sexy young twink Aaron Samuels.
Where does this guy get his energy from we wonder, as he's soon having his wicked way with the young, slim, blue-eyed twink! Aaron might have started the scene with a tight puckered hole, but after being slammed repeatedly by Damian's thick cock he's left with a gaping hole that you could drive a bus up!
It's been a tough week for JP and what better way to unwind than getting all your stresses and strains fucked out of you. Cue that delicious tanned hunk Dominic Pacifico who pounds JP's beautiful boy butt and gives him his second cum facial of the movie!
• Available on DVD from Prowler, Clonezone, Nice'n'Naughty or download in HD from EurocremeStore.com