Francesco D'Macho and Damien Crosse's Stag Homme Studios produces some of the hottest porn being made today and Toy, their sixth release is one of the horniest movies we've seen this year!
Get ready for six outstanding vignettes of facial cum shots, bondage, voyeurism, three-ways, rimming, sucking and frenzied fucking.
Phantom Lover stars Logan Scott and Francesco D'Macho. Francesco's been missing for a couple of years but after one too many drinks, Logan's mind starts playing tricks with him and Francesco finally returns. He feeds Logan his big fat uncut cock before giving him a good hard pounding and all of his thick creamy spunk.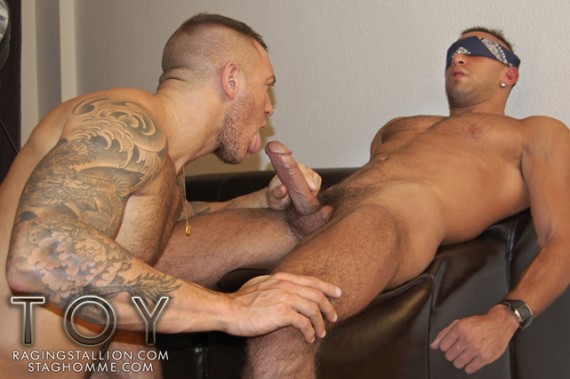 As Logan McCree gets a close shave from Bulgarian hottie Goran in Barber's Blade, the sexual tension is off the Richter scale Goran is soon feeding Logan his fat cock before bending him over, spreading open his cheeks and pounding Logan's pink puckered hole.
Max Schutler wakes and finds himself naked and tied spread-eagle to a bed in Atado. His abductor, Brazilian Pedro Andreas, explores every inch of Max's body but his real obsession is with Max's sweet college boy hole!
Straight Man Fucks Me stars Francesco D'Macho and an anonymous straight guy. It's a hidden camera scene and as Damien Crosse films it, he can't stop wanking to all the hot action as a blindfolded, sexy-as-fuck straight guy plows Francesco. Francesco D'Macho (this guy gets all the great scenes) and Spencer Reed star in Wood Sweat Cum.
The two hot and hairy muscle fuckers suck on each other's hard cocks until Spencer shoots his thick load into the back of Francesco's throat. But rough top guy Spencer is still hungry for more action and flips Francesco around and gives him the pounding of his life with his massive cock.
The final scene, The Good Husband, stars sexy-as-fuck Damien Crosse and Logan McCree and the opens with Logan in bed with his wife! Don't worry though, as she's soon off to work and Damien comes around to joins Logan in the marital bed. What follows is Logan McCree at his best as he tears up Damien's beautiful arse in a sweltering fuck sequence, which WILL make you shoot your load before McCree shoots his all over Damien's face.
---
Available from www.RagingStallion.com
---