Do you think that Trojan Rock hires his staff for their brains, their work ethics, or their City & Guilds Qualifications? Well QXMEN can confirm that he doesn't hire them for any of those reasons… He hires them because they're all so fucking hot!  
On his first day at work for Trojan's Toolmen, super-horny Latino Lucio encounters power-bottom Dolan in the locker room. They had no idea that boss man Trojan was lurking nearby and perving over the two men changing… and who can blame him! Wearing only jock straps, the contrast of Dolan's muscled, hairy body and pale skin looks so hot against Lucio's dark, smooth Latin skin and visually these guys are a match made in heaven.
Dolan explores every inch of Lucio's muscled body with his hands and tongue before releasing his amazing nine and half inch cock. He gobbles down Lucio's monster cock but it's Dolan's greedy hole that's screaming for some attention. Lucio is more than happy to oblige and, after prepping Dolan's hairy hole with his tongue and fingers, power fucks his arse, leaving him exhausted and breathless.
Much like we were after that outstanding first scene!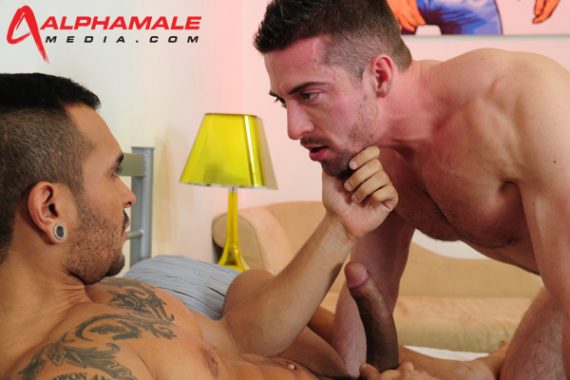 Next up, we find Tate and Harley getting it on in bed. Now, if like us, when you first see these two guys together you assume that young, lean Australian surfer-type Tate is going to get his cute butt fucked by tattooed, British muscle guy Harley, then you're going to be pleasantly surprised.
Yep, in a hot role reversal, it's Tate who takes control and fucks the arse off butch guy Harley… And Tate makes a mighty fine top guy too!
We find Lucio and Scott enjoying each other's manly bodies on the bed next, and that hot Venezuelan sleaze bag Lucio has his eye on Scott's English pink rosebud. Working his tongue in deep, he loosens Scott's hole and gives him the ride of his life! There's another two horny-as-fuck scenes to come in Dream Team.
One starring Dolan in a hot, sensual solo that ends with very sticky fingers, and a standout fuck where insatiable power bottom Bruno Knight uses top guy Tiko's massive cock as his own private fuck machine.
• Available to buy at www.eurocreme.com or watch high quality streaming at www.Eurocreme.tv