Trojan Rock is back with another horny instalment of Trojan's Toolbox. You wonder if his horny-as-fuck workmen ever get any of their jobs done? Mind you, you could never be angry with any of these tradesmen…
When boss Trojan Rock send hairy fuckers Ben and Roman on a job, these two have only got one thing on their minds – and it ain't shifting boxes!
Pulling off their overalls, things soon heat up and Roman pulls out his thick black cock and rams it up Ben's meaty arse, fucking him into next week! Watching Roman's huge tool sliding in and out of Ben's hairy butt is enough to make you shoot your load there and then.
But it's worth waiting, just to see the young cub getting ploughed good and proper and the amount of spunk that explodes from cocks when they're done… Outstanding!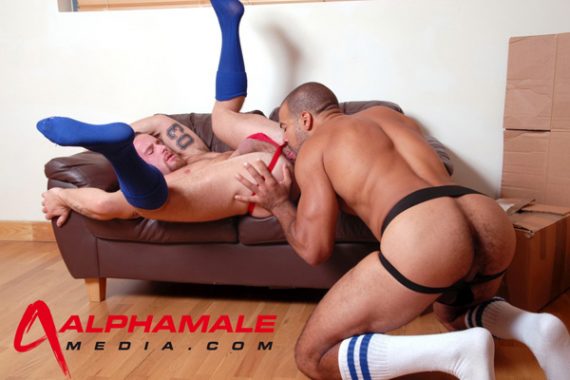 Randy is showing new boy Callum the ropes. The huge muscle guy gets tattooed Callum to sniff his workman pits and worship his entire body, working his way to the growing piece of meat in his jock. Dominant Randy soon forces Callum onto his back, spread his cheeks so he can tongue his hole, before he pummels him into the floor.
Gio and Alec are working out, but as Alec has forgotten his gym kit, he's wearing just socks and a jock strap. Now, watching this is enough to make you shoot, but soon the guys are slurping on each other's holes and sucking cock.
Next Gio fucks Alec and makes him spunk while his cocks inside him, and then he pulls out delivers a massive amount of cum all over Alec's hairy cock and balls…
Now this is the part where you'll shoot your load! Latino Alec and tattooed muscle guy Harley are in the gym and when the slim, but very hairy, Alec is bench-pressing, Harley manoeuvres his crotch directly over Alec.
Who could resist Harley's sweaty bulging jock, and in seconds, Alec is bollock-naked and on his knees getting face-fucked by Harley's huge cock…
We came again watching Trojan's Toolbox: Full Service when, not content with fucking Alec's mouth, Harley screws his hairy hole.
• Available to buy at www.eurocreme.com or watch high quality streaming at www.eurocreme.tv