Hot House Superstar Matt Cole returns to Palm Springs to join Kyle King and a host of Speedo clad hotties in Trunks 6! Steven Scarborough has once again assembled a stellar line-up of studs who pack their bulging muscles into skimpy Speedos and sweat it out poolside…
We've seen all six of Hot House Video's Trunks movies and we kid you not, each one will get you off!
Kyle King spots Matt Cole across the pool, dives in and swims up right between his legs. They get out and Kyle gets on all fours and goes straight for Matt's huge cock.
Matt's loving the blowjob but it's Kyle's big round butt that's driving him wild. So he mounts the suntanned stud and fucks him hard.
The athletic fuck, combined with the 90-degree heat, causes both men to dive into the pool for relief.  And when they come back out it's Kyle's turn to fuck the hell out of Matt.
John Magnum and JR Mathews are up next and John pulls out his uncut monster and tempts JR over to join him. John soon bends the chiselled redhead over and fucks him hard, first doggy-style then on his back.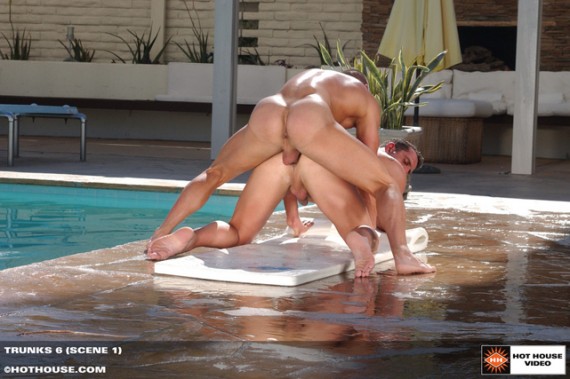 The sight of Matt's bubble-butt in the air proves too much for Troy Daniels and he slips off Matt's trunks and shoves his tongue deep in his puckered hole.
Matt stands up and fucks Troy's face but soon has the young hunk on his knees so he can pound his butt.
A leisurely swim turns into a big dick showdown between Bo Dean and Damien Stone and the muscular hunks flash each other their cocks before Damien swims over and goes down on Bo.
Bo returns the favour and goes down on Damien, just as Kyle King shows up with the hose to cool them off. Both Bo and Damien feed Kyle their huge cocks until Damien bows out so Bo can fuck Kyle's sexy butt.
The final scene stars Gavin Waters and Topher DiMaggio and when you see Topher grinding Gavin's butt you'll understand why we love these Trunks movies so much!
• Available from www.HotHouse.com