Upon the apparent death of sex-star JP Dubois, the funeral home is filled with a host of stunning co-stars, pallbearers and mourners. But who knew grieving could be so arousing when the mourners become trapped in the morgue and all horny hell breaks loose! And in a macabre ending, as everyone is leaving, the coffin is knocked over and JP is revived by funeral director, Samuel Colt, for a climactic 'back-from-the-dead' bang!
They might be within the icy confines of a morgue but these horny lads have no respect. It's the final farewell to JP Dubois, but even with his body on the slab in front of them, big-dicked Matt Brookes can't keep his hands off horny Riley Tess who's bent over the mortician's slab and gets the entire length of Matt's considerable dick, in one hard thrust, right up to the balls.
When nine horny pallbearers become trapped in the morgue, eight of them are wondering which one of them is Adam, the favourite American fuck-buddy of the deceased. But they soon find out and so eight European studs take it in turns to fuck U.S. porn star Adam Herst's hungry hole!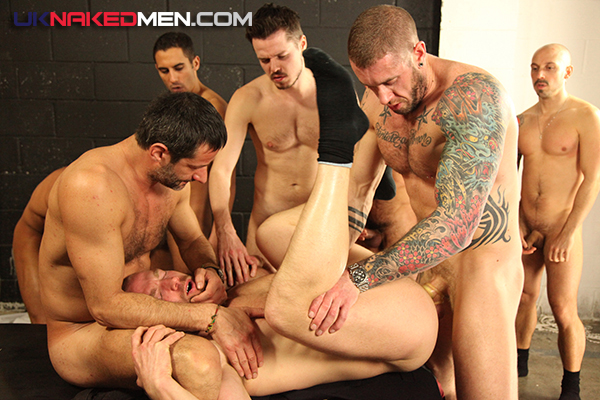 There are some big dicks on show and Adam's insatiable but everyone has their limits and his hole gets well and truly battered! But Adam's ordeal isn't over yet and in come some even bigger dicks to fill that spent fuck hole of his.
Enter Woody Fox and Ken Ten. Adam can barely take anymore but Woody and Ken are just getting started… If JP had been there to witness it, he'd be very impressed! In a twist fitting for a UKNakedMen production, it turns out that JP Dubois wasn't dead after all – though the promise of a hot fuck with Samuel Colt, his all-time-dream-fuck, would have been enough to rouse him from death.
Director Jonno told us, "JP begged us to let him shoot with Samuel Colt and we hate to disappoint. It was one of those 'stand back and leave the cameras rolling' moments.
Samuel took JP to task and put him through his paces as they slurped, sucked, rimmed and fucked their sweaty way to splurging, convulsing climaxes all over JP's empty coffin.
• Available from Prowler, Expectations, White Tiger and all good DVD stockists, and at www.ProwlerDVD.com