The guys at Lucas Entertainment are unzipped, undressed, rock hard and ready to have some of the hottest and sweatiest sex ever caught on film! 
Scene one and Trenton Ducati ducks out of work to meet his hookup, D.O., and after checking each other out, they head back to Trenton's apartment to have some fun.
As soon as the guys are through the front door they start ripping each other's clothes off before Trenton frees D.O.'s uncut tool from his briefs and swallows it up. D.O. bends over and Trenton plays with his hole, which makes him rock-hard, and he rolls on a condom, lubes up, and with D.O.'s arse high up in the air Trenton slides in.
After awhile D.O. needs a break, so the guys flip positions and D.O. sticks his huge uncut cock deep inside Trenton's muscular arse, showing him he's just as much a top! When Troy Daniels and Vito Gallo got together there was instant chemistry!
Vito didn't even need to fuck Troy to make him cum. The Italian top got Troy off by eating out his hole, sucking his cock and jerking him off with his strong hands. Once Troy's blown his load it's his turn to get Vito off, so first he sucks his cock before bending over and offers his hole for Vito to fuck!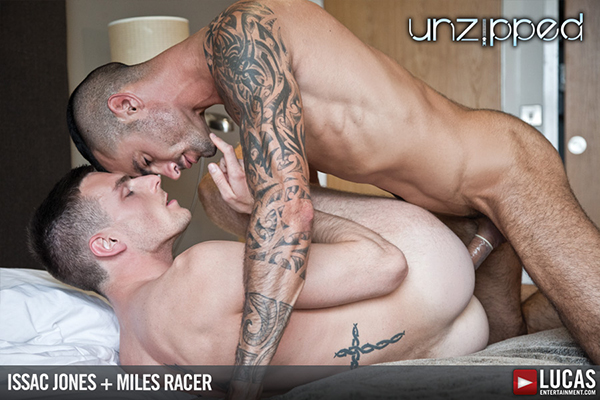 Jay Roberts and Damir are up next and don't waste any time getting down to action! Damir plays with and massages Jay's foreskin with his lips and Jay opens up his throat and swallows Damir's cock whole! Jay wants to impress Damir and takes a pounding from his top.
Issac Jones wants Miles Racer and coaxes him into his bedroom where they strip and hop into bed. Miles is a submissive bottom and he loves sucking Issac's slab of meat. Issac grabs Miles head and guides him on his cock before whipping him around, eating out his hole and then fucking him hard.
Paddy O'Brian likes his boys smooth, lean and pretty. No wonder Darius Ferdynand catches his eye. And they're a perfect match too, as Darius is a bottom who loves pleasuring strong dominant tops. They head back to Paddy's hotel where the guys strip down and get to business.
Paddy wastes no time and eats out Darius' hole before bending him over, rolling on a condom, and shoving his cock deep inside.
• Watch Unzipped at LucasEntertainment.com or buy at LucasStore.com.