There are two things those Euroboy twinks love in equal measures… candy and cock! Watch them as they cheekily tease each other with lollies and sweets, even sticking giant candy toys in each other's butts before devouring them, the greedy young champs! We just hope that the Euroboy studio paid for their dentistry after filming…
Scene one, and Aaron Aurora is with Alex Silvers, frolicking about on a multi- coloured duvet in just their underpants. You can tell by their prominent hard ons, clearly visible through their underwear that both boys are getting very excited!
Soon the pants come off and we get to see just what a big boy Alex is! Especially when you put him next to young Aaron's slight, hairless frame. Alex's huge cock is the same size as Aaron's forearm and we wonder how on earth the bottom boy is going to manage it in his tiny boy butt.
But the young scamp sucks his buddy's tool with a glint in his eye that shows that he really wants it. And soon he's getting it deep inside his guts… but that's not before Alex has loosened up his tight little hole with a giant candied dildo! Scene two and Ally Taylor is in The Candy Shop buying some sweeties.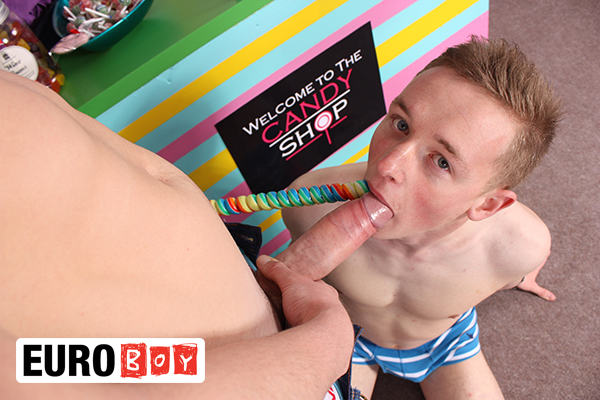 When the shop assistant, sexy Scotsman Danny James, tells him that the lollies he wants are out of stock, Ally decides he wants to suck on something else and shows down on Danny's huge member. Soon both lads are stripped naked and Ally's bent over the shop counter as Danny drives his massive cock deep into his butt. Reece Bentley is The Candy Shop's next shop assistant to offer his services to Jonny Castle, a young customer in need.
For such an angelic looking boy, Reece's cock is all man and he slam fucks young Jonny into a knee-trembling orgasm! It's a sugar-coated three-way delight to end this XXX-rated Euroboy DVD as greedy young Aaron Aurora is spit-roasted good and proper by gorgeous blond twinks Alex Silvers and Deacon Hunter. But don't let their innocent looks deceive you – these two lads fuck like dogs!
• Available from Prowler, Expectations, White Tiger and all good DVD stockists, and at www.ProwlerDVD.com.