Get ready for four heart-pounding, muscle-rippling sex adventures starring eight of Raging Stallion's hottest models, sucking and fucking their way to a ball-busting climax.
Rusty Stevens and Trent Diesel are up first in The Boxing Match and the guys are in the ring showing off their sparing and fancy footwork. Soon Rusty's red silk boxing trunks drop to reveal his meaty cock and Trent devours it whole before his blue shorts come down so Rusty can chow on his stiff tool. Trent mounts Rusty in a reverse cowboy so we can get a good long look at Trent's hole working its magic,while he bounces up and down on Rusty's long, throbbing meat.
Shipping Room Shenanigan stars Ricky Sinz and Anton Harri and straight away Ricky sets Anton's mouth to work on his cock. Once he's hard, Ricky turns Anton around, bends him over the shipping table and slides his tool into Anton's sweet, smooth hole. A good arse pounding is what Anton wants and that's exactly what he gets from top guy Ricky.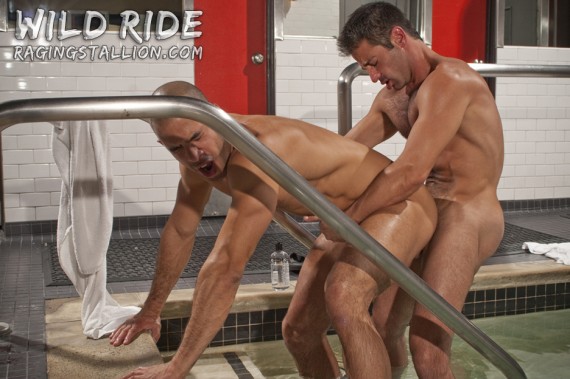 Scott Tanner and Pistol Pete are up next in Sex Man Style and if you're hankering for a taste of leather then you'll be satisfied with this next hot pairing. Scott is clad in skintight black leather chaps, vest, wrist cuffs and biker's cap while Pete's tanned and tattooed chest is harness bound and his arse perfecty framed in a white jock strap. Eying the nearby sling, Scott knows what he wants and soon Peter is stretched out in the suspended leather sling with Scott going in for the kill.
Austin Wilde and Sean Stavos bring up the rear in A Wild Ride a scene that was shot while filming for the movie Steamworks. The guys are resting in the club's Jacuzzi and Sean is sucking on Austin meaty cock. But when Sean positions himself to get a better angle on Austin's cock, his hungry hole comes into view and Austin can't help himself and dives in, kneading Sean's butt cheeks and thinking about what's to come. Unable to control himself, Austin bends Sean over the edge of the pool and slides his long, thick cock home for a good, hard fucking.
---
Available from www.ragingstallion.com
---