The lads from Triga kick off 2009 with an absolute blinder of a movie! This time round, as the movie's title suggests, the action takes place behind bars in a West Yorkshire young offenders institution…
If you've ever wanked yourself stupid watching one of those Channel 4 prison documentaries then you've got to see this movie!
It's lockdown time in the young offenders institution and a bunch of bad lads and scallies have been confined to their cell.
They're sitting around decked out in t-shirts and trackies, playing cards, smoking fags and bragging about what they're inside for, which seems to be mostly shoplifting and drug dealing.
Next thing, three prison guards storm in and one shouts, "Right you cunts! Put down your cards down and stand up against the wall!" as the other two begin to ransack the cell looking for drugs.
Once they discover some stashed it means the rubber gloves come out and the lads are in for a strip search. The guards make them pull down their pants, face the wall and bend over, spreading their cheeks so that one guard's greasy gloved finger can probe their tight fuzzy holes.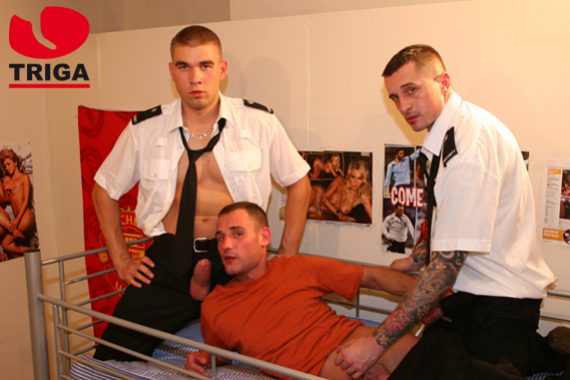 One Scouse lad kicks off when it's his turn to get his hole fingered and is man- handled by the guards who then decide to rim his tight hole. "Get the fuck off me!" the lad shouts but when he turns round it's a different story as his cock is stiff as a post.
"You want a bit of this now do ya?" he says and a guard gets on his knees and starts sucking. Cue a dirty fucking orgy with the prison guards and inmates going for it hell for leather.
Next we're in the games room and the lads are playing pool. Onne guard can't keep his hands off one the lads and grabs his arse as he takes a shot. The lads kicks off but he's soon forced to his knees and made to suck the officer's fat cock.
Next he's hoisted up onto the pool table onto his back, stripped naked and exposed. The pool table's surrounded by his cellmates who cheer on the guard as he fucks the helpless lad.
And this is not the end of the poor lad's arse-fucking, as he's made to sit down on the guard's cock and before getting fucked hard on the floor. By this time, the inmates are like a pack of wild animals, fucking and sucking each other and the guards, ending the scene with a filthy spunk-dripping finale…
One of Triga's finest, Young Offenders is a must have addition to anyone's porn collection.
---
Available only from www.trigafilms.co.uk
---